Today we're celebrating the release of Where The Waters Turn Black, an epic fantasy novel inspired by the myths and legends of the South Pacific. Does that not sound utterly intriguing? Plus, I've got a special treat for you–a chance to get to know author Benedict Patrick and his heroine, Kaimana, through a super fun author / character interview. But first, this gorgeous cover….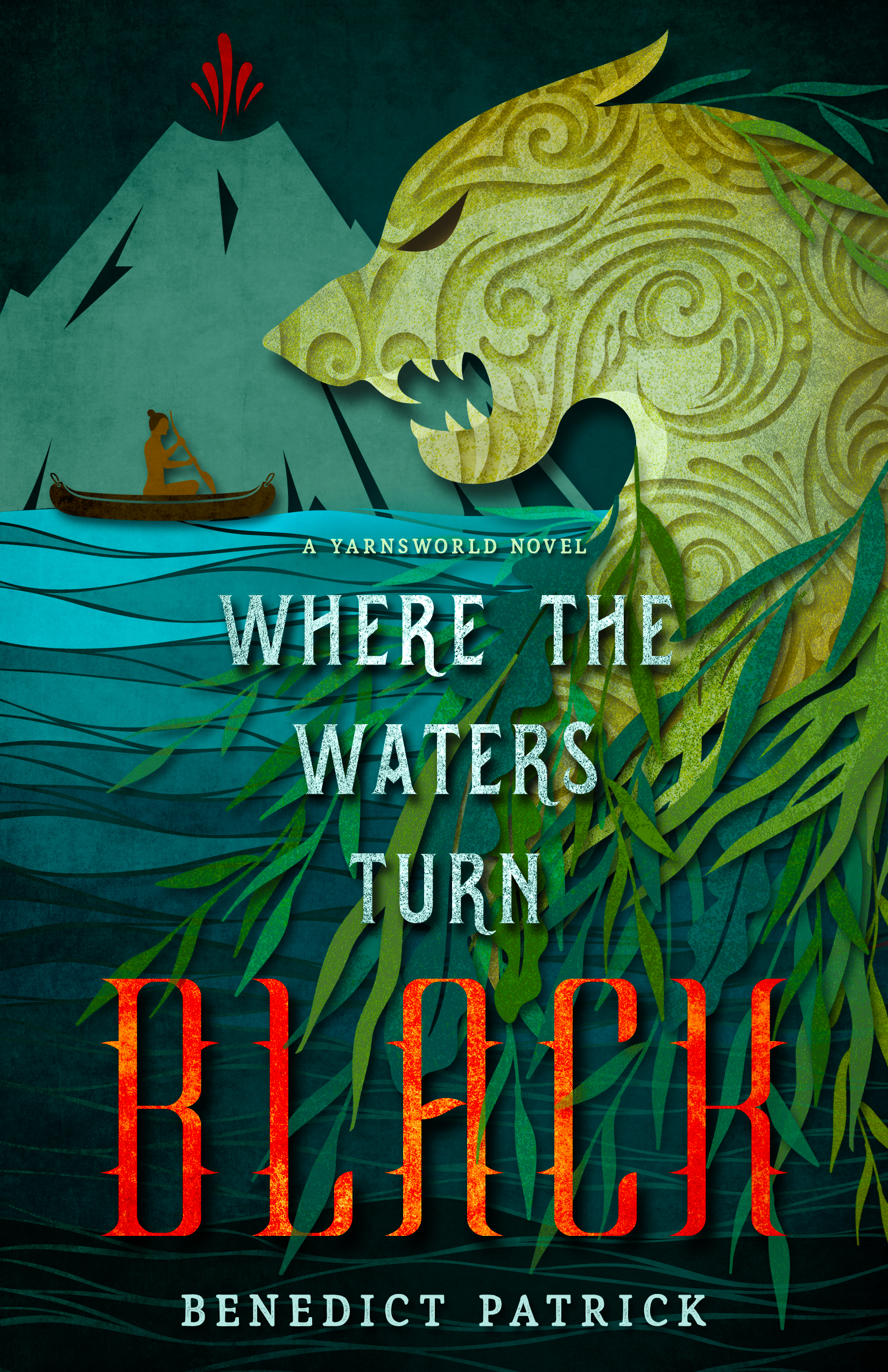 When gods and monsters battle, her music will not protect her…
The Crescent Atoll is a remote string of tropical islands, connected by long canoe journeys and a love of stories.
When Kaimana, a young ocarina player, discovers the lair of a taniwha – a legendary monster – she finds herself inspired. The song she is composing about their encounter will be her masterpiece, but her disturbance of the beast attracts the ruining gaze of the god of war. She must convince the taniwha to trust her if they are both to survive.
Where the Waters Turn Black is a standalone novel from Benedict Patrick's Yarnsworld series. Inspired by the myths and legends of South Pacific island cultures, this book is perfect for those seeking fantasy stories with a hint of the unfamiliar.
Buy it on Amazon.
There's also a Goodreads giveaway running this week, so be sure to check out the book page and enter! Now, for let's hear a bit directly from Benedict and Kaimana…
To start us off, can you, Benedict, sum up your novel in a tweet?
Young woman travels the islands, looking for inspiration for her music. Finds giant monster instead, and attracts attention of the gods.
So, how did you two meet and how long ago was it?
Kaimana: I was… it felt like a long time ago, wasn't it? And I was very different, too. Younger.
Benedict: That's right. Back in 2002 I spent the summer travelling around New Zealand. I was fascinated by Maori culture, especially the mythology. At that point, the image that would first turn into Kaimana popped into my head. She was a lot younger at the time – just a toddler – but I've been nursing the image of an island girl with a dark, formless monster lurking in the water beneath her for quite a while.
Kaimana: I can't remember that far back. For me, it felt like we only met a year ago. Yes, a year ago you brought me back to the island I was born on.
Benedict: That's when I finally started writing the story.
What was your first impression of each other?
Kaimana: He was a little boring. Sorry, Benedict but you just kept going on and on about your kids and the books you're reading, and your writing…
Benedict: Thanks! Kaimana is… well, she is very curious. One might also say nosey-
Kaimana: What?!
Benedict: Let me finish – more than anything, however, she struck me as someone hungry for success. That, I can relate to.
Kaimana: I don't like that word, 'hungry'. I just… I just want to show people what I can do, the music I can play on my ocarina.
What's the most embarrassing thing that's happened between you two?
Kaimana: I've made a lot of mistakes since we first met, and you've seen them all.
Benedict: Yes, but in fairness, I did help you make them. I think the most embarrassing conversations we've had – and none of this has made its way into the book – are the ones about your romantic thoughts.
Kaimana: That's not something I'm interested in right now.
Benedict: I know. Believe me, I know. But let's be honest, even though you never say or do anything about it, there is someone who you meet in the novel that has been keeping you awake at night.
Kaimana: Don't be stupid. Can we talk about something else?
Benedict, what do you feel the worst about doing to Kaimana?
Benedict: Oh, definitely the sense of failure she has at the start of the novel. Kaimana returns back to her parents after spending three years travelling the islands, playing her music, and they expect her to have achieved something great. She hasn't. That's a tough load to bear.
Kaimana: What, you don't feel like mentioning the numerous house-sized monsters and all-powerful gods that are chasing after me for most of the story? I think they deserve at least some sort of lip service.
Kaimana, if you could say just one thing to Benedict, what would it be?
Thank you, I guess. I mean, things get rough for a while – very rough – but I prefer who I am now after everything I've been through. And what I've gained after all my adventures… well, thank you.
If you had a free day with no responsibilities and your only mission was to enjoy yourself, what would you each do?
Benedict: I'd probably be writing, wouldn't I? There are plenty of answers I should give you – spending time with my family, sleeping, eating – but at the moment I can understand the urges that consume Kaimana at the start of Where the Waters Turn Black – I'd like to be writing, thank you very much.
Kaimana: I can't really copy you, can I? All right, I'd like to spend some time with my friends. Playing in the sea, hiding on the beaches, that sort of thing.
Benedict: Really? Honestly, I don't think you could keep that up for a day. You'd be itching for your ocarina after an hour, tops. That part of us is too much alike.
Do you think you two will meet again in the future?
Benedict: I have no doubt.
Kaimana: Brilliant. Some more challenges to look forward to.
Kaimana, what's the worst thing you've ever done to someone? Why?
I left my parents three years ago. You see, in my world, most people develop one Knack, a magical talent. My family is a family of fishing Knacks, but when I found mine, it was a Knack for playing the ocarina. They were… disappointed. Not angry, just… sad. When I had the chance, I left with a performing troupe to travel the islands of the Atoll to play my music. I think it broke their hearts to see me go.
Benedict, what does Kaimana do that annoys you the most?
I think it is fair to say Kaimana is a little bit selfish. She's well intentioned, but it takes a pretty big push for her to give up something that she wants. As you might imagine, that gets her into more than one scrape.
Benedict, what have you read in the last few months that you really enjoyed?
I'm ploughing my way through a number of indie titles from this year's Self Publishing Fantasy Blog Off. I've recently read Senlin Ascends by Josiah Bancroft, What Remains of Heroes by David Benem, and am currently dipping into Path of Flames by Phil Tucker. I've also been discovering audio books for the first time – just polished off The Martian, and I'm hooked on the format now.
Thanks so much for the interview! I'll definitely be checking out those new reads too! 🙂
About the Author
Benedict Patrick is from a small town in Northern Ireland called Banbridge, but has been living and working in Scotland since he moved there at the age of eighteen. Tragically, that was quite a while ago.
He has been writing for most of his life, and has been reading for pretty much all of it (with help from mum and dad at the beginning). Benedict's life changed when a substitute primary school teacher read his class part of The Hobbit and later loaned him the book – he fell in love with the fantasy genre and never looked back.
They Mostly Come Out At Night is his debut novel, and is the first novel in The Yarnsworld series. Where The Waters Turn Black is his second novel set in The Yarnsworld.
Try out some free Yarnsworld stories by signing up to the mailing list: http://eepurl.com/b4UNHj.
About the Author
Save